Another SOLD-North Kingstown Rhode Island Real Estate- Condo Sale.
A hard to find 3 bedroom Heritage Gardens condo at 56 Deerfield Court North Kingstown RI just sold by Ginny Lacey Gorman at 99% of list price.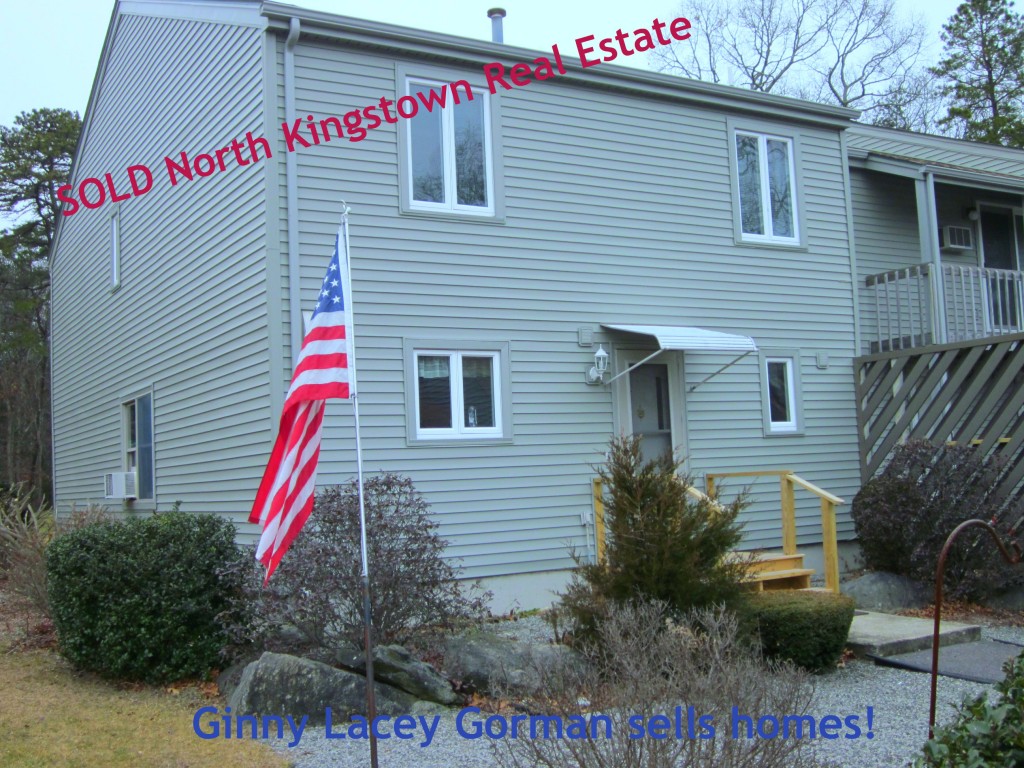 Happy Buyers- Ecstatic Sellers!
This North Kingstown condo for sale did not take long to get the right offer because it was listed by the sellers at the RIGHT PRICE. This was an estate sale with many memories to be considered for the family members. What a great North Kingstown condo complex to live in with double garages and a huge private rear yard!
Finding the right buyer who loved this North Kingstown Rhode Island real estate in the neighborhood that was of great interest to the buyer. With 2 car garage and 1800 square feet of living space this Heritage Gardens condo was a find! The sellers are grateful that someone will appreciate this North Kingstown condo as much as their family member did.
What does it take to sell a North Kingstown condo or home for sale?
A very strong internet presence, blogging on real estate, numerous web site hosting sites, social media placements, GOOGLE presence & minimal print advertising! My internet marketing strategies work for my clients when they want their homes sold in North Kingstown and beyond. I do not list homes to have a sign advertising 'me' out there forever- I list to SELL...work with a North Kingstown real estate agent who works for you in this challenging real estate market.
If you are ready to find the perfect North Kingstown neighborhood and home or condo for sale, contact a North Kingstown real estate agent.
I'd love the opportunity to help you. Phone me today at (401) 529-7849, or email me at RiByTheBay@gmail.com to schedule an appointment. Another SOLD-North Kingstown Rhode Island Real Estate- Condo Sale.
!!!!!!!!!!!!!!!!!!!!!!!!!!
Ginny Lacey Gorman is a North Kingstown Realtor who works and knows the North Kingstown RI geographic area of homes for sale, schools, happenings, important tidbits of information and businesses well. Waterfront, water view, ocean front, luxury and coastal Rhode Island real estate are her specialty. If your considering Buying, Selling or Relocating to Rhode Island and need a real estate Professional it would be my pleasure to help you! When you are in need of an internet savvy RI realtor® who sells homes in this real estate market, call Ginny today at 401.529.7849
This blog © and its contents is original to Ginny Lacey Gorman
Ginny L. Gorman, a purveyor of Fine RI Waterfront Real Estate   
Specializing in waterfront, ocean front, vacation, coastal and luxury homes for sale in North Kingstown, South Kingstown, Narragansett, Jamestown, Charlestown, East Greenwich, Exeter, West Greenwich RI and beyond ...  I sell dreams!  Because there is no place like home...the RI Real Estate Agent in the Sparkly Red Shoes.
Looking for a knowledgeable Rhode Island Real Estate Agent?  Let me GOOGLE one for you!
cell: 401.529.7849      Ginny Lacey Gorman, Realtor